Believing You Can Effectively Serve Patients AND Your Organisation Is The First Step!
Learn Why Improving Patient Experience Is Your Shortcut To Personal And Organisational Success
Yes! Send Me The Free Book
This is a real book, not a downloadable PDF. We will pay for book, you just pay postage and we'll mail it to you.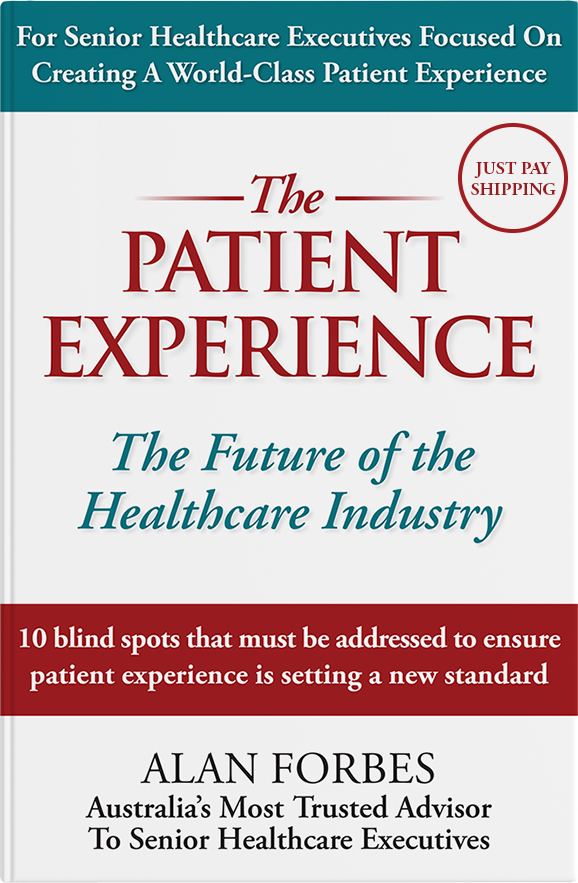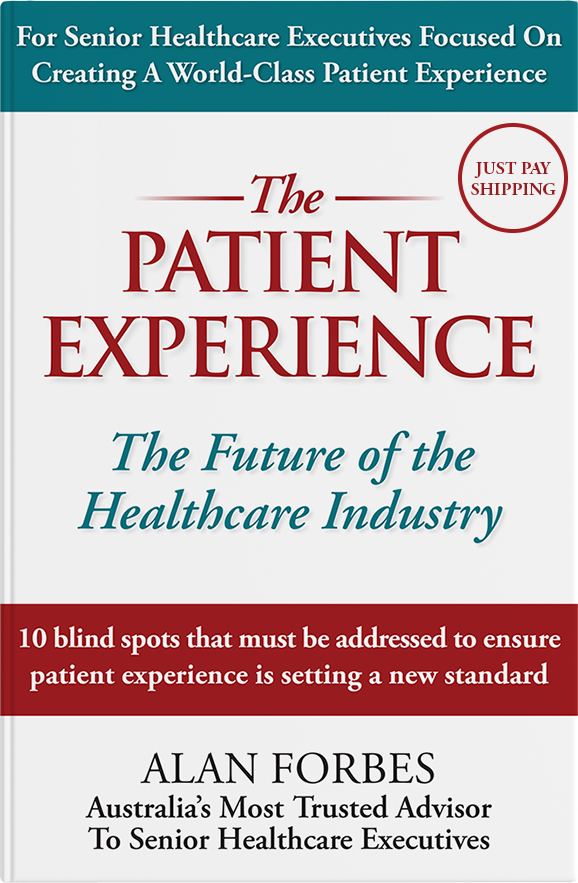 About The Book
In this transformative and dynamic book, you'll discover:
What the real barriers to creating positive changes within healthcare actually are
How problems experienced in healthcare organisations relate to those experienced in other sectors
How providers can develop a problem-solving mindset, saving time, money and stress
Why provider attitudes and beliefs figure prominently in the patient experience
The dangers that individual agendas pose for patients and your organisation
Little Changes Can Make All The Difference!
You're probably a senior healthcare executive responsible for ensuring the patient experience in your organisation is at a level of excellence you can be proud of. You and your team are good people, and you care deeply for your patients. You're doing everything you can to ensure your patient experience is at the highest level.
But could there be blind spots that you aren't aware of that are creating a negative impression and image of your organisation?
All of the problems experienced in healthcare organisations are the same as those that are experienced in many other sectors, from education to retail to pure consultancy. Essentially, everyone has the same problems—they're just framed differently.
Yes! Send Me The Free Book
This is a Real Book, not a downloadable PDF. We will pay for the full postage and mail it to you.
In this book, you'll learn about…
10 blind spots that must be addressed to ensure the patient experience is setting a new standard
Cost savings
why the most efficient route is not always the most effective
Outsourcing
what this really means for your patients
Negative patient experiences
what the impact is on your growth and why it always matters
Disruption
why healthcare might not be as safe as you think
Technology
is it really the silver bullet you're being sold?
A Personal Note From Alan Forbes…
Throughout my career, I have worked as a consultant across a wide range of industries. However, my passion is for healthcare, because I am motivated by a strong desire to make a meaningful difference in people's lives.
Regardless of the industry, from mining to oil and gas, from transportation and logistics to retail, I have seen that when you are looking to make deep and lasting transformations, it is essential to have buy-in from the senior executives.
It can be hard to have the trust and belief that there is a way to make change that will benefit the patients and the organisation as a whole and still ensure that everybody is able to meet their personal targets. It is difficult to understand how making deep changes is worth the risk.
I can tell you that a deep level of positive change is possible. By shifting your perspective and your focus, something amazing happens.

Alan Forbes
Australia's Most Trusted Advisor To Senior Healthcare Executives.
Throughout his career, Alan has devoted himself to improving customer experiences and organisational outcomes across a wide number of industries, ensuring that customers' needs are met, complaints are minimised, and company targets are reached or exceeded.
In recent years, Alan has shifted his focus to the area of his greatest passion – healthcare. With an acute awareness of exactly where the pitfalls and obstacles to achieving the most successful outcomes lie, his experience has already proved invaluable to many prestigious healthcare providers. This is because he recognises exactly how to move beyond these barriers to create a patient experience that is second to none.
Through providing the organisations he works with and the people they serve, and with a level of security that instils trust and confidence, Alan's holistic approach is truly transformational.
By breaking through siloed thinking and providing the tools to build towards an all-inclusive approach that puts the patient front-and-centre, Alan has created a new matrix that meets everyone's needs, linking the aims of administration to those of medical professionals, thereby providing a solid platform on which patients can wholly rely.
In his book The PATIENT EXPERIENCE The Future of the Healthcare Industry, Alan guides you through all of the reasons why improving patient experience is your shortcut to personal and organisational success.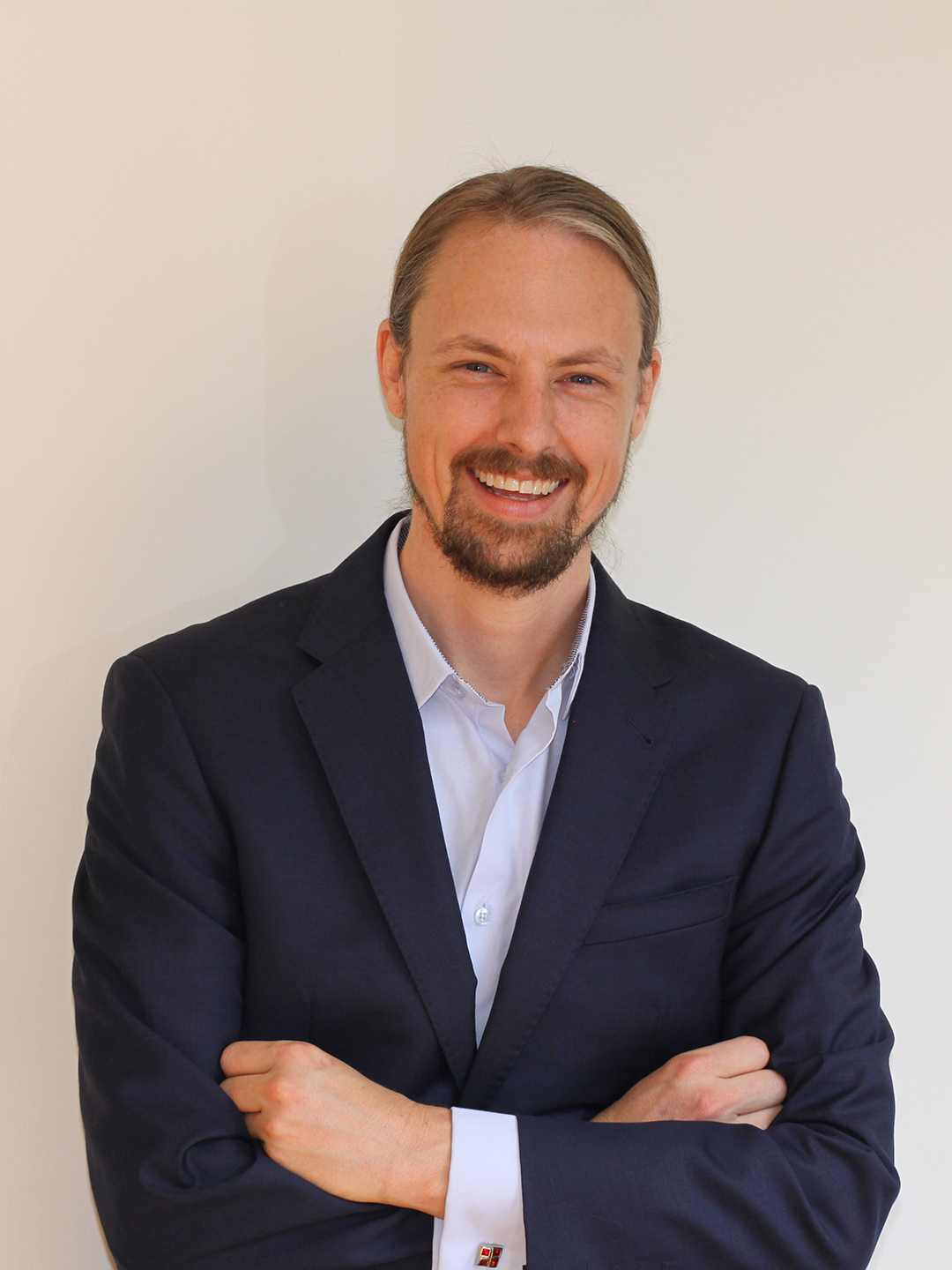 Dr. Jane Leigh

Clinical Director and Private Consultant

"Alan's expertise would be a valuable asset to any healthcare organisation. His input into patient experience and the challenges they face within the healthcare system is extremely insightful. Not only is he extremely thorough in getting to the bottom of real system hazards, but also his plans for change is genuine and positive.

From improved wait-times for patients through to the best measurable indicators for understanding and achieving success, Alan's improvements have the potential to help win over staff and patients in so many different specialties throughout the industry."
Dr. F. Cerantola

Medical Practitioner

"If you've ever struggled with trying to work out what makes your patients tick, Alan can certainly point you in the right direction. His work and insights will prove invaluable as they bring in some great outside perspective on any patient's struggle your organisation could be experiencing.

I have great confidence in Alan's knowledge and experience. His dedication and motivation always provide the best of standards, and this translates into a tailored experience that will bring across-the-board improvements. If you want the best for your patients, staff and organisation, Alan should be part of your team."
The Leadership Team

Port Phillip Specialist School

"Alan worked with us to overcome a number of behavioural and outcome-driven negotiations with a number of our staff. Following the workshops and extremely concise findings that were delivered, we were able to achieve all of our desired outcomes and more.

When it comes to our purpose of education and care for children with special needs, Alan was really able to get to the root of many problems getting in our way. Incredible improvements have been made with our staff and our ability to achieve the best we can as a team. Without his excellent work, I fear we might have continued to struggle with doing our absolute best for our staff and for the kids. Thanks, Alan!"
Robert Brown

Service Delivery Manager, GCCX at General Motors

"Alan came to this work with the experience and ability to investigate customer problems end-to-end without making anyone feel judged or wrong and getting to the core of what keeps organisations from achieving their best performance.

These skills and his approach help you understand what matters to customers and is key to Alan's work–getting to the real root cause of any systemic customer experience issues your organisation may be facing."